Oklahoma (16-10, 3-3 Big 12) then travels to Stillwater for a three-game Bedlam series against No. 6 Oklahoma State (21-8, 5-1) this weekend. .
The Sooners will look to prevent the Cowboys from opening a long winning streak, after Oklahoma State cruised to a 5-3 win over Wichita on Tuesday. Oklahoma is looking to add to its winning streak after its own win on Tuesday, an 8-2 win over Oral Roberts.
Here are three things to know ahead of the next Bedlam weekend series:
Pettis always available to run, not allowed to hit
Redshirt sophomore outfielder Kendall Pettis made his first appearance since injuring his elbow March 13 as a pinch runner in Oklahoma's April 2 win over Texas.
Pettis wasted no time in making an impact in his first game, stealing the second almost immediately after being set up.
"Kendall is really dynamic," Oklahoma head coach Skip Johnson said. "He almost went from first to third on a left single, so we know how dynamic he is. … He still has room to grow even if he is injured.
While Pettis was cleared to serve as a pinch runner — and quite successful based on his performance in Texas — he still wasn't cleared to hit.
Although he couldn't help the Sooners at home plate, Pettis made sure to keep his lineup up to expectations while waiting for the go-ahead.
"He's been taking fly balls the last two days, from the start of Tuesday through practice yesterday," Jonson said.
Sandlin's First Bedlam
In his last two outings, redshirt sophomore right-hander David Sandlin has allowed eight hits — including two for extra bases — three runs and struck out 10 batters on combined strikes in 11 innings.
Sandlin's command on the mound has been a key part of the Sooners' pitching staff and one the team will build on as it progresses through the season.
"For me, when it comes to pitching, it's very much about repeating the feel rather than repeating the mechanics," Sandlin said Thursday. "If I can get that feeling that I've had for the last two weeks, like certain cues throughout my throwing motion, that makes all the difference."
Sandlin knows the Bedlam rivalry very well as a native of Owasso. After spending the 2021 season at Eastern Oklahoma State College, this will be the right-hander's first Bedlam series with the Sooners, which he is thrilled for.
"Growing up watching this, whether it was football, basketball or baseball all my life, finally being able to be a part of it is a dream come true for sure," Sandlin said.
Oklahoma beat Oklahoma State on March 29 in a 7-6 standalone non-conference game, giving Sandlin a hint of what was to come even though he didn't pitch that day.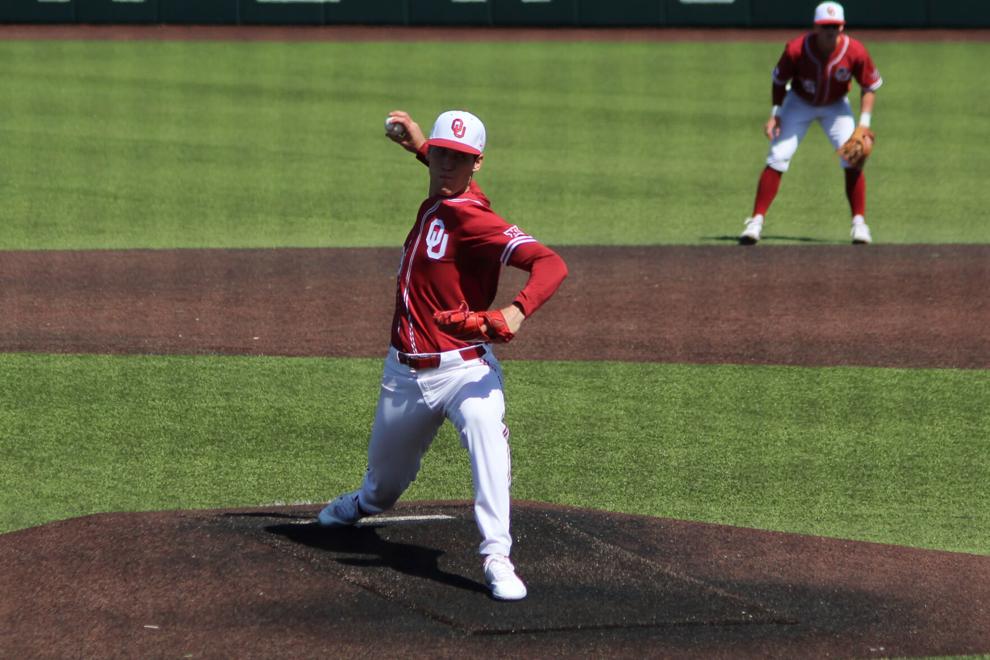 "I feel like it was kind of a taste," Sandlin said. "I think it's going to be a great stepping stone for the rest of the season against another good team and a tough environment."
Sandlin is backed by a strong defense including redshirt sophomore Peyton Graham, redshirt sophomore receiver Jimmy Crooks and redshirt senior outfielder Tanner Tredaway.
"It's another level of comfort on the mound," Sandlin said. "Knowing that guys like (Graham) or the whole lineup, Tredaway just adding those tracks makes you feel more comfortable."
Clark emerges on the infield
First-year infielder Wallace Clark is set to experience his first Bedlam streak as a Friday night, nearly a month after getting his first start March 15 against the Air Force.
As a Tulsa native, Clark understands the toll the series of rivalries places on the team and received a positive introduction to Bedlam in the Sooners' 7-6 non-conference win on March 29.
Clark's eye to the plate makes him a badass for any pitcher that faces him, forcing them to work for it.
"He had a really high batting in the Saturday and Sunday games, and really in the Tuesday game," Johnson said of Clark's recent performances against Texas and ORU.
Clark has hit .250 this year and is posting a .471 on-base percentage in his seven games and four starts, walking four and scoring three runs on three hits. In his last two games, Clark has scored two runs, walked twice and had one hit and one stolen base.
"He's not going to go out and hit 20 home runs," Johnson said. "He has to be a guy whose identity is to bunt, run (and) have quality at bats. …He's gotten a lot better as we go through this.